Vitamin A: The Fountain of Youth?
Ask any dermatologist which one ingredient in a topical formulation has been the leader in anti-aging, and the answer would be Vitamin-A. Renova (tretinoin) & Avage (tazarotene), both Vitamin-A derivatives, are two prescription creams approved by the FDA for reducing the signs of aging, including fine lines and dark spots. These work by increasing your skin's collagen and elastin and generating faster cell renewal, resulting in a smoother and more even complexion.
Retinol, a pure form of Vitamin A is found naturally in many of our foods and is now being added into topical creams by some of the leading skincare companies. For example, Decleor has begun to incorporate Vitamin A into their facial formulations. Their eye-cream's, Vitaroma Resourcing Cream Contouring Eye-Lift and Contre Temps Stop Wrinkle Fluid (for women and men respectively), combine plant extracts, essential oils and retinol. They have been reported to produce similar results to their prescribed counterparts, but without the potential irritation. Whether this represents the fountain of youth is yet to be determined, but the possibility is certainly hopeful.
Both of these topical creams, in addition to the complete Decleor line are available at the SkinCareLab Apothecary.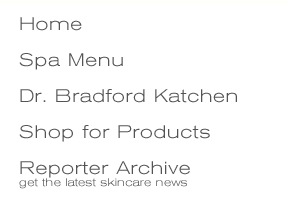 Decleor Vitaroma Eye Lift - An eye cream with bio-enhanced retinol and essential oils, that rejuvenates the skin around the eye. $44.00